Since a few weeks our app shows an error warning from Google Maps. We will soon repair this. The warning does NOT affect the functionality of the app, so you can keep sending us your noise registrations.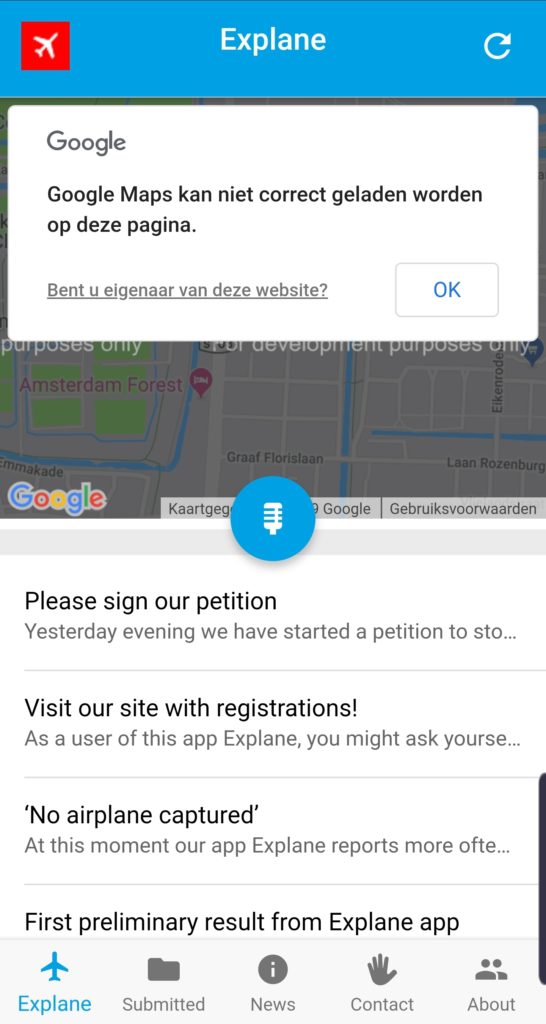 The warning is actually very positive news. It tells us that our period of free use of Google Maps is over. We now have to pay for the use. This is a direct result of the wide and intensive use of the app. When we started it, we did not expect so many users and so many registrations in such a short period.
We now already have 70,000 registrations of aviation noise in our database. A technical university in The Netherlands will research the data, and we are invited to insert the Explane-data in a 'civic science' project of the Dutch health research institute.
As soon as our volunteer app builder is back from holiday, we will make the adjustments to get rid of the Maps-error.
Do you appreciate our app?
Please donate a small amount of money to help pay for the associated costs via Paypal.
You can read all our older blogposts via the web: https://cms.explane.org.